The prime minister has been accused of ducking the issue of whether the government supports a new nuclear power station in west Cumbria on a visit to Copeland ahead of the constituency's byelection.
The accusation was levelled after Theresa May said the Conservative party was "committed" to nuclear, but did not offer state support following huge losses reported by one of the backers of a deal to build the Moorside nuclear plant near Whitehaven.
NuGen, the company behind the Moorside scheme in Cumbria, has insisted Toshiba remains committed to the project despite doubts after the Japanese giant revealed it was on track for losses of 390bn yen (£2.7bn) for the year to March. Toshiba has a 60% stake in NuGen.
Justin Bowden, national officer of the GMB union, which represents nuclear workers, said: "Theresa May has ducked the central question, just when strong leadership was required."
During the visit the prime minister refused to make any new guarantees, although she said the business secretary, Greg Clark, had spoken to the Japanese firm and got a pledge of its backing.
"It's the Conservatives who are committed to the nuclear industry in the UK. Trudy Harrison, our candidate here, has made very clear to me the importance of Moorside," May said.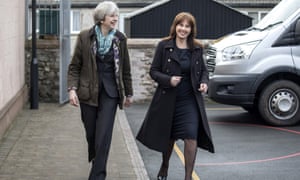 Bowden…
Source link