Human rights protections contained within the 1998 Good Friday agreement are "inviolable" and cannot be tampered with due to Brexit, Ireland's foreign minister has warned.
Speaking before meeting Britain's Northern Ireland secretary James Brokenshire in Dublin on Tuesday, Charlie Flanagan cautioned against moves by the British government to dilute the human rights element of the agreement that brought devolved government to the region, as well as a number of cross-border institutions.
Flanagan stressed that the protections of human rights contained in the agreement were inviolable as part of a UN-recognised international treaty.
"The human rights aspects of the Good Friday agreement are a really important part of what we need to preserve," he said. "It is essential that none of the human rights protections or frameworks underpinned by the Good Friday agreement are disturbed by any changes that are consequent from a Brexit agreement.
"This is regardless of whether or not the UK remains within the European convention on human rights or not [post-Brexit]. It is important to remember that the Good Friday agreement is an international treaty, registered with the UN. I hope that all sides understand that this means. Its provisions – all of them – are inviolable."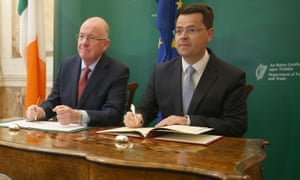 The Fine Gael-led minority government in Dublin is concerned about the…
Source link