A graphic Labour pamphlet warns voters in Copeland that a Tory victory in the by-election will "cost mums their children" in an open letter aimed at highlighting the risks of NHS cuts in the constituency.
The handwritten letter in support of Labour candidate Gillian Troughton, a St John ambulance driver and former hospital doctor, is from local mother Paula Townsley. The leaflet is the second posted through letterboxes by Labour activists to contain dire warnings about the closures of maternity services at West Cumberland hospital.
Townsley's letter describes how she gave birth to twins who were 15 weeks premature at West Cumberland hospital, but one of her sons did not survive. Expectant mothers will need to travel more than 40 miles to give birth in Carlisle if the maternity services in the area are closed.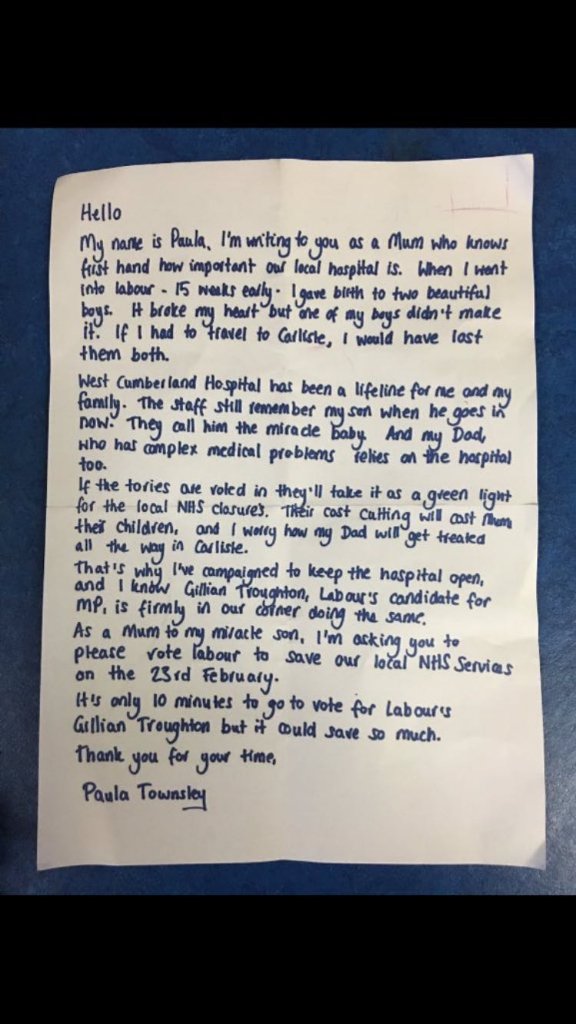 "If I had to travel to Carlisle, I would have lost them both," she wrote. "West Cumberland hospital has been a lifeline for me and my family.
"The staff still remember my son when he goes in now. They call him the miracle baby. If the Tories are voted in they'll take it as a green light for the local NHS closures. Their cost-cutting will cost mums their children.
"As a mum to a miracle son, I'm asking you to please vote Labour in our local NHS services on 23 February. It's…
Source link