More than 200 high-profile public figures including Ralph Fiennes, Keira Knightley, Michael Morpurgo and the band Coldplay have written to Theresa May calling on the government not to close a scheme to bring unaccompanied child refugees from Europe to Britain.
In an open letter addressed to the prime minister, the signatories describe the decision to admit no more than 350 children under the so-called Dubs amendment as "truly shameful".
"The idea that as a country we will slam the door shut after just 350 children have reached safety is completely unacceptable," they write, adding: "The country we know and love is better than this."
Others who have signed the letter include actors Sir Mark Rylance, Carey Mulligan, Juliet Stevenson and Benedict Cumberbatch, writers Sarah Waters and Linda Grant, and musicians Lily Allen, Jessie Ware and the band Hot Chip. The playwrights Sir Tom Stoppard and Sir David Hare are also signatories, as are TV presenter Gary Lineker and human rights lawyer Dame Helena Kennedy QC.

The letter follows the government's announcement last week that the scheme, under which 200 vulnerable children have so far arrived in the UK from camps in Europe, would be wound up after a further 150 are allowed to come. Many MPs and peers, who passed the amendment to the Immigration Act in April last year, believed that the number admitted would be more like 3,000.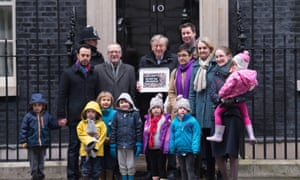 Source link