Theresa May is expected to miss the EU's 60th anniversary summit in March because the British government sees no point in being involved in planning the future of the EU.
The British prime minister was invited to join the celebrations on 25 March with 27 other EU leaders but decided not to take part, a senior EU diplomat told the Guardian. "The door was open, but the response was, 'We don't think it is appropriate for us,'" the diplomat said, summarising the UK response.
A second EU source said May's decision was "entirely logical" because the main focus of the summit would be the future. "We are still a union of 28 and Theresa is of course very welcome to come and celebrate 60 years of the EU in Rome," the source said. "Rome will be an opportunity to look back at what the EU has done, its achievements … but obviously the main focus is to look to the future."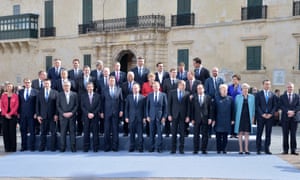 EU leaders will gather on the Capitoline Hill in Rome to remember the day when six countries embarked on a project of European unity. The treaty of Rome, signed by France, Germany, Italy, Belgium, the Netherlands and Luxembourg on 25 March 1957, paved the way for the modern EU of 28 countries and 510 million people.
Donald Tusk, who chairs European summits, and Paolo Gentiloni, Italy's prime minister, want EU leaders to sign a declaration that will chart a path for the next decade. Senior sources say the mood is…
Source link