Tony Blair will declare his mission to persuade the UK to stay in the EU today, calling for remain supporters to "rise up in defence of what we believe".
The former prime minister will make the statement at his first big speech since the EU referendum, arguing that people were misinformed when they voted for Brexit.
"The people voted without knowledge of the true terms of Brexit. As these terms become clear, it is their right to change their mind," he is expected to say. "Our mission is to persuade them to do so."
His intervention is likely to be highly controversial at a time when Theresa May has criticised those seeking to deny the "will of the people" as reflected by the EU referendum vote on 23 June 2016, and when Labour's leader, Jeremy Corbyn, has pledged not to block the triggering of Brexit.
Blair gave an interview saying Brexit could be halted if the British people decided the costs of leaving the EU greatly outweighed any benefits, as he signalled a return to political activity last November.
But in his speech hosted by Open Britain, the successor to the remain campaign, he will go further in issuing a rallying call, to those who want to remain in the EU, to fight against Brexit.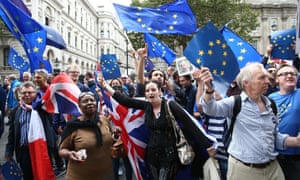 "Our challenge is to expose relentlessly the actual cost, to show how this decision was…
Source link