Paul Nuttall, the Ukip leader, has denied that he has lied about being a Hillsborough survivor after a number of people questioned his claim to have been present on the day of the disaster.
He claims to have been present, along with his father and two uncles, when 96 Liverpool fans were crushed to death, and has said only "scum of the earth" would suggest this was not true.
After he added in a newspaper interview last weekend that he did not like to talk about the disaster, the Hillsborough Families Support Group questioned why he had never offered any support, while others who knew him at the time say they have no recollection of him saying he was present during the disaster.
With these questions being raised, Ukip gave the Guardian two statements on behalf of Nuttall, one from his father and another from a Ukip employee, saying that they and Nuttall had been at Hillsborough on the day of the disaster.
The statement from Nuttall's father gave an incorrect age for his son at the time of the 1989 disaster.
The statements appear to raise further questions for Nuttall, who is contesting the Stoke Central byelection for Ukip on 23 February.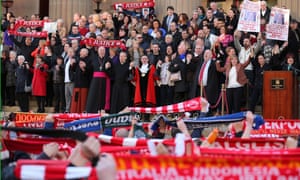 He declined to answer the Guardian's questions about the matter. His parents have not responded to a request that they speak to…
Source link